Originally known as Microphone Mike, Myka 9 is recognized as one of the most stylistically advanced rappers in the 90's. His first real break was in the 1980's when he received the opportunity to be a lyrical ghost writer on NWA's first compilation, titled 'NWA and The Posse.' He then had the opportunity to collaborate with major acts such as The Wailers, Carmen Carter, The Last Poets, and co-founded the legendary hip-hop group, Freestyle Fellowship. Today, Myka champions his often-imitated, never-duplicated lyrical style around the world. He is known for his rapid-fire, jazz-influenced, melodic rapping, and often incorporates singing and occasional scatting into his songs. Myka has said of his style, "My rhymes take the direction of a jazz trumpet or sax solo, like Miles or Trane, if I was to rhyme in the same meter as those notes...that's my concept."

FREESTYLE FELLOWSHIP - As one of the founders of Freestyle Fellowship, Myka 9 shared rapping duties with Aceyalone, Self Jupiter, P.E.A.C.E. and DJ Kiilu held down the turntables. His melodic scat influenced rap style and improvisational lyrical talents were demonstrated on this group's debut album To Whom It May Concern. Myka's songs '7th Seal' and 'Five-o-clock follies' blew everybody's mind for at least 2 years straight after the release. "People studied that song backwards and forwards, and Mike was like the Charlie Parker of all these motherf*ckers," says a fellow myka-holic, remembering the hype of the group. By 1993, the "Fellowship" was signed to Island Records - 4th & B'Way, and released their landmark album Innercity Griots. To date, the "Fellowship" have released To Whom it May it Concern, Inner City Griots, Shockadoom and their last album Temptations, released in 2002. Currently, all of the members have come together to record a new Freestyle Fellowship album, The Promise, which will come out in February, 2011.

"To say that Freestyle Fellowship significantly influenced West Coast hiphop is like saying that Jesus was a pivotal figure in Christianity." --Pitchfork

HAIKU D'EAT - During his life with Freestyle Fellowship, Myka 9 was also featured on the Project Blowed compilation in 1994, and then came together with Aceyalone and Abstract Rude to form Haiku D'Etat. The band's first self-titled album, released in 1997 is considered a classic, merging Hip Hop with a Jazz influence that is evidenced in both the lyrics and the production. In 2004, the band reformed to record "Coup De Theatre," which featured production from Blowedians DJ Drez and Fat Jack, Chief Xcel of Blackalicious as well as Myka's own productions.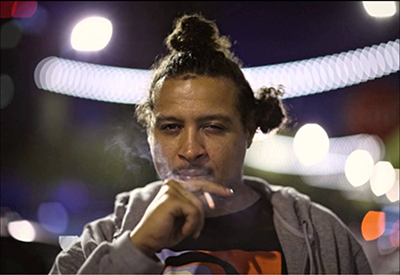 Today, Myka has achieved much success in many collaborative and solo album efforts beyond Freestyle Fellowship & Haiku D'Etat. He has been consistently releasing albums, and constantly strives to achieve new perspective and consciousness, partnering regularly with many acclaimed producers and artists for his next musical quest. He prides himself in achieving success as a MC not only in hip-hop, but other genres such as jazz, dancehall, drum n bass and dub step.

THE STAGE & FILM

Myka 9 has a powerful & charismatic stage presence, and has performed with under-current and mainstream artists & venues around the world. Myka amazes audiences from headlining shows at El Rey Theatre (Los Angeles), Marytime Hall (San Francisco), Wiltern Theatre (Los Angeles - Jurassic Five with Talib Kweli), Cypress Hill Smoke Out Festival, Rock The Bells Festival with Gorilla Union and the list goes on. He also has appeared live with Macy Gray, Wyclef Jean & Eryka Badu, Busta Rhymes, Snoop Dogg, Outkast, Goodie Mob, D'angelo, Lauryn Hill, Mos Def and more.

In addition to honing the stage, Myka 9 was recently featured in the award-winning 2008 documentary film "This is the Life," chronicling the music movement that was birthed at The Good Life Cafe in South Central Los Angeles. (The Good Life is the open-mic workshop where he first performed with Freestyle Fellowship in the early 1990s.) Myka has also achieved BET/MTV video rotation, major publication exposure including Spin, Vibe, and Source magazines, as well as the L.A. Times. In addition, Myka has good rapport with major radio personalities like Big Boi at Power 106FM, Eric Kobichi at 100.3FM The Beat, and Garth Trinidad at 89.9FM.

Myka 9 is also known as Mikah 9 and Myka Nyne.

"It's All Love" - Myka